GTCC alum gets called up to majors for turfgrass skills
Published on: November 3, 2022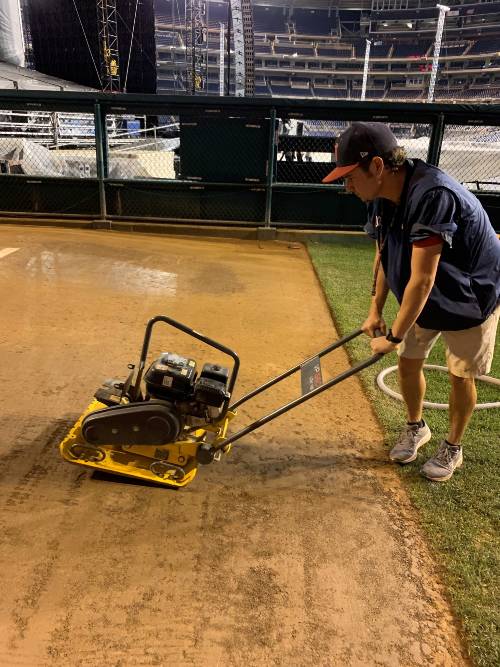 GTCC alum Luke Montgomery works as the assistant field manager for the Washington Nationals.
As a young boy, Luke Montgomery was fascinated by the mowed grass lines at Durham Bulls baseball games. A decade later, he's mowing those lines on a much bigger stage.
Montgomery is now the assistant field manager for the Washington Nationals after stops to learn and refine his craft at Guilford Technical Community College and his beloved Durham Bulls.
Montgomery's journey began as a high school junior. He was hired as a member of the grounds crew at Hillandale Golf Course in Durham. A couple of months later, he decided turfgrass was his future and began picking the brain of course superintendent Barry Tucker to find the best path toward his goal.
"A neighbor got me a job at Hillandale. I was doing basic stuff, grunt work, mainly mowing fairways and every now and then they let me cut greens," said the 21-year-old Montgomery, who is originally from Roxboro, N.C.. "It was probably after two or three months of working there, I went into Barry's office and asked what he did to get where he was, where he had gone to school."
Tucker graduated from Ohio State University where he studied agronomy. Montgomery began searching for a four-year college with a good program. But his search was short-lived.
"I had been an N.C. State fan my whole life, and I knew they had a good grass program. In high school it wouldn't be a stretch to say I wasn't the greatest student. I wasn't big on homework," Montgomery said. "As I was looking at State, my mom tells me 'we're not paying for that until you prove you're going to do the work.' She said I'd better find somewhere else.
"I immediately started looking at some community colleges and Guilford Tech was perfect."
GTCC's turfgrass management program and its instructor James Milam were life changers for Montgomery.
"Going to Guilford Tech took me to the next step," he said. "Mr. Milam is a great instructor. He really knows his stuff. He was a golf course superintendent for years. He was a landscape and maintenance person."
Montgomery said Milam totally immersed his students in the subject matter. There were lectures and labs. They learned to operate all the equipment involved in turfgrass management. They toured ball fields and golf courses with Milam to get an inside look at successful operations.
Montgomery continued to work after starting at GTCC, relocating to Mill Creek Golf Course in Mebane, which made his drive from home to school to work much less time consuming. The Mill Creek job was a home run, and within a few months he was the assistant superintendent for the course. A year or so into his GTCC studies, he added a second job, this one with Durham Bulls.
"When I was really young, I'd go to Durham Bulls games and the grass … the stripes in the grass, the way it was mowed, always fascinated me," said Montgomery, an ardent baseball fan who played throughout his youth.
"Then I started working at the Durham Bulls, the place where I was fascinated as a kid. It was great working there. I'll never work with a group of guys like that again. They all know what they are doing. They put out a good product every day. Going to the Bulls, I could be around baseball, something I had been passionate about since a kid."
When Montgomery's stint with the Bulls ended and he returned to the golf course, he knew "I wanted to work in baseball. I started looking for internships all across America."
He got five offers: the Washington Nationals, the Boston Red Sox, the Philadelphia Phillies, the Milwaukee Brewers, and one from a golf course.
"After considering all the options, the pay, the rent, everything, I ended up picking the Nationals," Montgomery said.
He started as an intern, but was promoted to assistant field manager a couple of months after arriving in Washington, D.C.
"I started the internship in March of this year and in May was promoted to full-time assistant field manager. That just doesn't happen."
Montgomery is quick to point out that it's not a glamorous job.
"It's a lot of attention to detail, a lot of tedious work and long hours. It's pretty much my life at this point," he said.
A night game day usually starts at 7 a.m. and runs until midnight or so.
"We want the field to be as beautiful as possible before the fans are out, before the cameras are rolling on it."
Montgomery imagines in a year or two, after learning as much as possible with the Nationals, he'll move on and up. "As of now, I really think I want to stay in Major League Baseball, but college athletics are on my mind," he said.
Regardless of his next step, Montgomery knows he wouldn't have taken that first step without his time at GTCC.
For more information, visit the turfgrass management web page.
Back to All Articles