Associate professor enjoys balancing teaching and practicing his art
Published on: January 26, 2023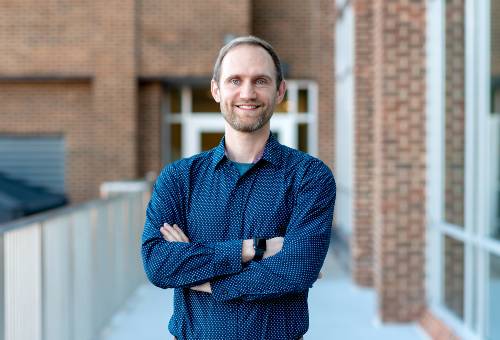 "All of the diverse student perspectives are inspiring to me, and their different approaches to solving artistic problems even influence my own artwork," says Gaines Bailey, associate professor of visual art.
When you think of a potter, you probably think of a laid-back, easy-going artist.
William Bailey, Gaines to his friends, is definitely laid-back and easygoing, but his active professional life is fairly fast-paced.
He is an associate professor of visual art at Guilford Technical Community College, an active artist who is currently exhibiting in a three-month-long show at the North Carolina Pottery Center, and whose studio was recently part of the Durham Pottery Tour in November. He also creates commissioned pieces of pottery, has a family, and knows only one speed: wide open.
"I always had the plan I would be a practicing artist and a teacher and that balance has worked out for me," Bailey said. "My position at GTCC is such an enriching part of my life. It is really meaningful to be guiding students at this pivotal point in their lives and to see them find their passions.
"All of the diverse student perspectives are inspiring to me, and their different approaches to solving artistic problems even influence my own artwork. The Visual Art Department at GTCC really is an incubator of ideas between students and faculty."
Bailey grew up in the Raleigh area, and after graduating from Winthrop University he returned to the city to become the pottery studio manager at The Crafts Center at North Carolina State University, where he also taught some classes. Once he finished work on his graduate degree at East Carolina University, Bailey began looking for a full-time teaching position. That's when he landed at GTCC. The college was in the process of building its art department as part of a statewide community college initiative. Bailey was the first hire in that expansion and the second art instructor overall at GTCC.
"This job was exactly what I was looking for," said Bailey, who teaches a variety of classes like ceramics, 3D design and art appreciation.
The GTCC art program offers traditional art disciplines but also has expanded to include newer ones, including digital components and 3D modeling and design.
"We teach all the classes students need to transfer to an art program at a university," he said. "There are five required classes and we've recently expanded to add several.
"Since I've been here, we've had a lot of students who transferred on to art departments at four-year schools. Now, the first group of our graduates are graduating (from four-year schools) and we are going to have our first alum that is going on to get a graduate degree."
This semester, Bailey is teaching three ceramics studio classes, classes that meet for six hours a week each, and a lecture. He is also working with a new pottery club formed by students of the art program, a club that's open to any student.
There is also the occasional trip to the North Carolina Pottery Center in Seagrove where many pieces of his pottery are on display, along with the work of four other artists. Seagrove, located less than an hour from the Piedmont Triad, is a statewide hub for potters with more than 100 plying their trade in the small town.
"I'm happy with the amount of demand I have. I may only do three or four shows a year, and I focus on the quality of those instead of getting stretched too thin," said Bailey, who is presently working on two commissioned dinnerware sets.
And,­­ fortunately for Bailey, pottery is a family affair.
"In the evenings and the weekends, I spend time with my family. It's something they are very interested in, and we can be involved in it together."
Visit GTCC's visual arts program page to learn more. 
Back to All Articles