Completion specialist delivers degrees of happiness to unaware students
Published on: January 27, 2023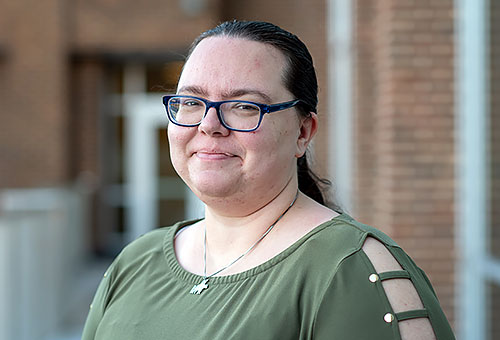 "We've had some students that have been discouraged because they have been working so long. The certificate gives them the confidence to finish out," says Kristen Fowler.
There are probably very few people who know what Kristen Fowler's job at Guilford Technical Community College entails. But, it's a critical one ensuring student success.
Fowler is the college's completion specialist. She researches student academic accomplishments to make sure everyone eligible for graduation or to receive a certificate has done just that. There are many who not only haven't received documentation, but who are unaware they have completed all the classes needed to obtain a degree or certificate.
"In a lot of the reporting, we found people who have completed requirements, but haven't graduated," said Fowler, who has worked at GTCC since 2013 but became the college's completion specialist in 2021. "They may be going for an associate degree and, in the process, completed requirements for other certificates and didn't know it.
"Say, it has taken a long time, and they have nothing to show for the work yet, and I tell them they have already earned two or three certificates. It picks them up. And if they have a general education degree, they can add those certificates to it."
When Fowler took over the position in 2021 after serving as a transfer credit evaluator, she spent time researching the status of former students, seeking those who stepped away from GTCC but were unaware they had completed degree work or were very close to completion.
"When I first started, we would go back two years," she said. "Now, it's just with active students, we have sort of caught up.
"We did a big marketing push and ran a report of students within a five-year period who hadn't completed a credential. Some were only one or two classes away and life circumstances kept them out. Some of those were able to get scholarships. It's good to get them back and for them to get their degree when it wasn't even on their radar."
Not surprisingly, the pandemic and the need for the student body to work remotely for months greatly increased Fowler's database.
"A lot of students had to go back to part time or withdraw because of COVID," she said. "They weren't comfortable with doing the work online. It increased the time they stayed in school, and they may have missed getting a certificate. Sometimes getting those certificates is the boost a student needs."
There have been many instances, Fowler said, when students were so focused on the big picture, smaller victories fall through the cracks.
"There are a good number of students that are in the college transfer degree program, and they get so excited about going to a four-year school, they forget or maybe don't even know they have completed work on a certificate," Fowler said.
Students are always pleased with the information Fowler delivers to them.
"They are always happy," she said. "We've had some students that have been discouraged because they have been working so long. The certificate gives them the confidence to finish out. They always want the certificate to display and put on their transcripts."
Back to All Articles