Vietnam native reboots college career after pandemic swoon
Published on: January 10, 2023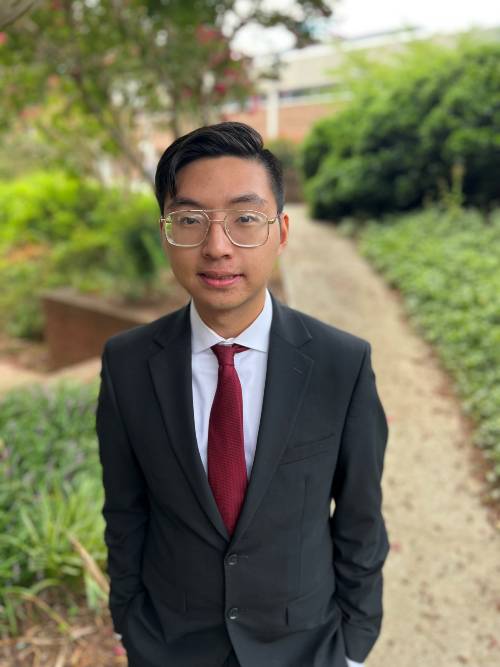 "I never thought I would meet so many people like this," Khoa Nguyen says of working as a student ambassador.
Khoa Nguyen understands the value of second chances.
Nguyen headed to UNC-Chapel Hill after graduating from Western Guilford High School in 2020. COVID-19 was already running rampant late that summer and UNC students were quickly sent home to work remotely.
"I went to Chapel Hill my first year, and I didn't do great. It was a big change for me, and it was at the peak of COVID," Nguyen said. "We were only on campus for two weeks and we went home. I didn't do too well working remotely."
At the end of that first year, Nguyen decided he needed to step away from school for a while.
"I suffered with depression some, and sort of wanted like a gap year, a year off," he recalled.
Nguyen, who had been a solid high school student, knew when he decided to take some time off that he would definitely return. But he never considered Guilford Technical Community College until a cousin pointed him in that direction.
"I still wanted to go back to school. I had a close cousin I talk to a lot, and he told me I should go to GTech, that he had taken classes there, and it was a great place," said Nguyen, who came to the United States from Vietnam when he was a child. "Honestly, I didn't know much about the school. My dad went there for ESOL (English for Speakers of Other Languages) classes. I always thought GTech was more of a newcomer's school, a school for those new to the country."
He started researching GTCC and was shocked by the results. The college offered the computer science program he was interested in, and moreover, Nguyen found out it was part of the Carolina Student Transfer Excellence Program (C-STEP), which will allow him to transfer seamlessly to any state school in North Carolina. That means he will be able to give UNC another shot.
With one semester of GTCC studies behind him, he has found himself on solid footing, both academically and emotionally.
"It has been much better for me," Nguyen said of the reboot at GTCC. "My grades are much better now, and I think for the most part my depression is better now."
He said a return to classroom learning has been huge for him, as have the smaller GTCC classes.
"It is great being back in the classroom. I prefer classroom instruction and I really like the smaller classes. I like the atmosphere," Nguyen said. "I feel like students are more integrated together. I value that experience a lot. It's a nice experience to have."
Nguyen also has embarked on another rewarding experience – GTCC's Student Ambassador Program, a group of select students who provide core support to the college while gaining access to professional networking opportunities. About a dozen students are called upon to help where needed, from giving campus tours to new students, to assisting those attending large campus events like graduation, to helping new students at registration.
"Honestly, it's been fun and interesting," Nguyen said. "I had never enjoyed any sort of club in school. This is all my first experience in something like this. It's new and exciting. I never thought I would meet so many people like this."
The endeavor has also helped Nguyen break out of his shell and comfortably address groups of people.
"It was kind of daunting at first," Nguyen said of giving campus tours to families and students visiting campus. "Last week I had a group of high school students, a group of 20 or 30. I had never experienced talking to that many people at one time. But I did OK."
All thanks to a second chance.
Back to All Articles