DHET instructor talks future of the industry
Published on: February 16, 2023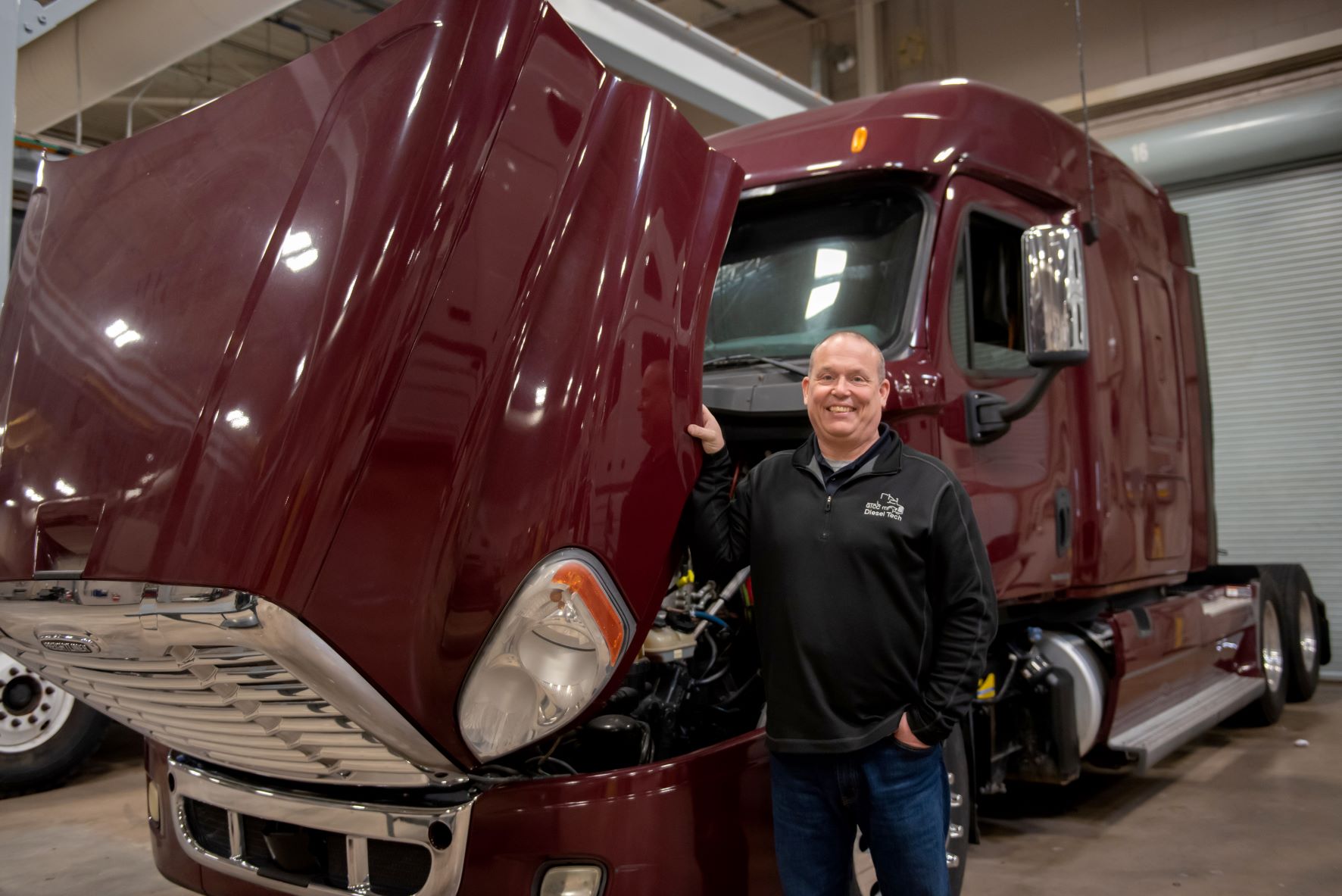 Jonathan Skeen plans to see increased enrollment in the DHET program at GTCC.
The Diesel and Heavy Equipment Technology program at GTCC has become more important than ever according to DHET instructor Jonathan Skeen. More funding is expected to fuel the many pathways in the program, and instructors are planning for an increase in enrollment over the next few years as demand increases for people with service technician skills.
Skeen discusses his background, the job prospects for those pursuing this technical degree, and elaborates on the grant that GTCC has recently received for the program.
GTCC: What is diesel and heavy equipment technology?
Skeen: A diesel engine is a diesel engine. Whether you're working on a truck or any other piece of equipment, it's the same principle. We teach over-the-road trucks and trailers, like the big 18- wheelers, tractors, Bobcat skid steers, and bulldozers.
GTCC: Can you describe your background related to this program?
Skeen: Holy smokes. I've spent some time in the United States Army. I wasn't that guy that went to school, so I had to take a different route. So, I spent some time in the military and fell in love with this stuff. I got out of the military after six years and then went to college and got an associate degree in automotive technology.
I started working in dealerships and then transferred into heavy equipment facilities, which is where I really wanted to be anyways. I decided one day to get a bachelor's degree because I wanted to transition to high school. I wanted to get my teaching degree, so I went to High Point University and got my undergraduate degree.
It's been one stepping stone after another. I ended up at Davie-Davidson Community College about 20 years ago. They started a heavy equipment program and I was lucky enough to be the first instructor that they hired. Then we grew that program to a two-year degree. I left that program because it wasn't going to get any bigger, and I thought I would come up here for a little bit bigger and better opportunities.
I am Automotive Service Excellence (ASE) master certified and I got a master's degree from East Carolina University. So, education, I'm not shy on that.
GTCC: What are the classes like in this program, and what are the different pathways for students?
Skeen: When I got here, we only had one certificate and one diploma, so we changed some things around. We have one diploma and two certificates now. Those certificates are for folks who just do not want to take math, or COM 120, or CIS 110. They can just come take our core classes and get the certificate and move on. They have the Diesel Engine Certificate or the Powertrain Certificate.
The only difference in our diploma program versus our certificates is the three classes: the math class, COMS 120, and CIS 110. The hope is that in the future we can expand it into a two-year program because we got a lot of stuff we need to add. It'll be a little better because you'll have your four certificates and your one degree. As it stands right now, there's not a great deal of difference between the two.
In the class setting, I'm about 60 percent lab, 40 percent classroom. We don't spend a ton of time in the classroom. We'll go over basic safety stuff, the principles of what we're talking about, and some background. Then we'll actually go out to the shop and put our hands on it. We'll tear things apart, put things together, do some troubleshooting, stuff like that.
GTCC: How important are jobs in this field, and what are the job prospects for graduates of this program?
Skeen: The need for heavy equipment technicians is hard to fathom. You can't even explain it to people, it's so bad. Everywhere you go, everybody you talk to, everybody is needing us. It's scary, in a way. We don't have enough, and we can't produce them fast enough.
Everybody I've had for the last three years has went to work. These students, if they want to go to work right now, they'll put them to work right now. If you want a job, you can have one fast. Sometimes I have to talk students into staying. They see the money so they just go for it. So, that's what I mean when I say I have industry backing. They won't let the students stay unless they come back to finish this up. They're making them come back to finish. That's pretty awesome in my book.
GTCC: GTCC recently received the NCCCS Expanding Community College Economic Impact grant for the Diesel and Heavy Equipment Technology program. Can you talk about what that grant money will be used for?
Skeen: We're trying to start a second cohort and try to keep the second class rolling at night, in the hopes that we find a second instructor in the near future to take it over. But this grant is going to allow us to expand the number of folks we can actually reach.
What we decided to do with some of the money was have paid work-based learning. The college is going to pay X amount of dollars and the employer is going to pay X amount of dollars, which should fuel these guys. They're going to be making pretty good money, plus earning college credit on top of it. And now the company can eyeball them and at the end of the work-based learning decide whether to hire them full-time or not.
GTCC: We're seeing some environmental changes and laws being put into place with diesel and gas emissions. What is the future for programs like these when it comes to environmental impact? Is the curriculum different than what it was before?
Skeen: That is an absolutely loaded question. I'm going to try to explain it as best I can.
In our world, and I'm talking over-the-road trucks and trailers, the electric vehicle has some obstacles to overcome. In town, for buses and stuff that doesn't go over the road for long distances, electric vehicles is fine. Right now, Volvo is testing some alternative fuel trucks and fuel cells. It's an internal combustion engine, but we're not using diesel. Volvo is working on a cleaner-burning internal combustion engine.
Compressed natural gas is another way we'll probably end up going until we can decide. It's really up in the air. The electric vehicle for over-the-road trucks and trailers is a few years down the road until the technology can keep up with us. I think what we're going to look at in the relatively near future is going to be compressed natural gas in some form of diesel engines with a hybrid generator of some sort producing electricity.
GTCC: What would you say to someone interested in getting a degree or certificate in the field?
Skeen: We get dirty, we get nasty, we get filthy. But at the end of the day, you've earned your money. It's about being self-satisfied. It's about doing what you feel you need to do.
I've been working this business my whole entire life, and it's always self-fulfilling when you get to the end of the week and you've repaired, fixed, or got the man down the highway in his truck. It makes you feel good about yourself.
The last thing I want to do is try to talk somebody into something they don't want to do. I just give them the straight-up facts. We make very good money, we work some very long hours, and we get very dirty. But we also have a lot of camaraderie. In our business, everybody knows everybody. So, it's not a "you're in it by yourself" mentality, everybody's in it with you.
Back to All Articles