Engineering instructor helps students transfer to N.C. A&T
Published on: February 15, 2023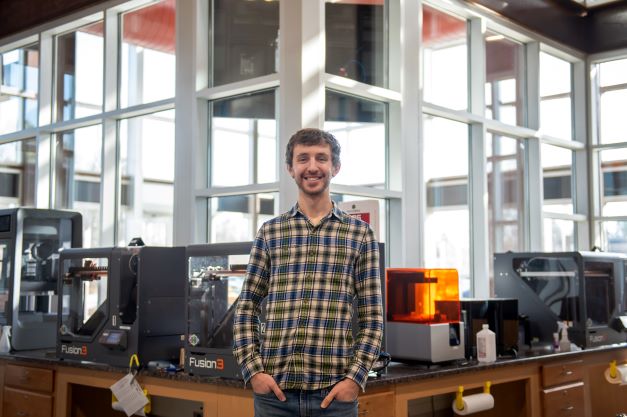 Forrest Kidd, Ph.D. is the instructor to speak with if you are interested in transferring to N.C. A&T for engineering.
Anyone interested in pursuing a career in engineering can feel confident in their decision. The field is predicted to add nearly 140,000 new jobs to the market by 2026, according to the U.S. Bureau of Labor Statistics.
The data predicts job increases in all sectors of engineering, with civil, mechanical, and industrial engineering jobs being the top areas of predicted growth.
GTCC assistant professor Forrest Kidd III, Ph.D., is the go-to person when it comes to the engineering transfer partnership between Guilford Technical Community College and North Carolina A&T State University. He talks about his background in engineering, how the transfer program works, and the new articulation agreement that GTCC and N.C. A&T are finalizing. He also discusses the future of engineering and the best way to successfully become a transfer student.
GTCC: Can you describe your background related to the program?
Kidd: I got my bachelor's and master's degrees in aerospace engineering from N.C. State, and then my Ph.D. in mechanical from Western Michigan University. During that time, I realized that doing research, doing engineering, is cool. It's a lot of fun, but while that was enjoyable for me, and I got to do a lot of interesting stuff like work with lasers or electric propulsion thrusters, my passion was teaching. I wanted to be a teacher, and I wanted to help students, so when I saw the opening at Guilford Tech, it just seemed so perfect.
GTCC: What are the job prospects like for students who graduate from the engineering program?
Kidd: Engineering is a spectrum, it touches almost every field you can think of. It really will depend on what kind of engineer they want to be.
What's nice about the associate in engineering program is that it's flexible to let them go down any path that they want to go into, and to do so right out of college.
The possibilities are endless. They can go into any field because engineering is not going to pigeonhole any student into one particular path.
GTCC: Can you tell me about the A&T/GTCC partnership and how it came to be?
Kidd: About seven years ago, I believe it was Dr. (Beth) Pitonzo and the dean of STEM at N.C. A&T at the time who had this idea that we should make some agreement that gives certain benefits to GTCC students who were going to transfer to N.C. A&T.
I love the idea of that program, but it's currently kind of like a really good laptop from 1985. It was really great when it was created, but it needs to be updated to match today's students. The amazing thing is that the administration here at Guilford Tech and N.C. A&T are coming together again to do just that. They are finalizing a new articulation agreement which will get that partnership back to where it needs to be.
We used to have just one pathway meant for civil [engineering] here at GTCC. In the future, they're going to have other pathways to N.C. A&T for computer, electrical, mechanical, and industrial, all of them having their own separate pathway. Every student who comes into it will know exactly what courses they're taking for their specific engineering degree so they can transfer to N.C. A&T successfully and do it as quickly as possible. So, I'm really excited we're finally getting that update. It should hopefully be coming online in the next year or so.
GTCC: How competitive is admission into the A&T transfer program? Do students have to apply or is admission automatic?
Kidd: Currently, it's completely open. In the past, some of the requirements were having a certain GPA, having a certain course load, and being a full-time student. In the future, it will likely require that they get to Calculus I readiness before they're officially in the track.
GTCC: With so many advancements in technology, like self-driving and electric vehicles and AI advancement, what do you see in the future of engineering?
Kidd: If you think about it, 20 years ago, cell phones were like little bricks. We've moved to where it's now a miniature computer in my hand. And I think these miniature computers are going to become more and more prevalent and more and more powerful.
I think augmented reality will become a much bigger part of our lives. We're going to be mixing in aspects of augmented reality in things like Google Glass. Google Glass didn't do very well, but we have other people coming in who are trying to move into that same space. More apps are introducing augmented reality, like PokéMon Go, where you look through your phone and see a PokéMon Pikachu over there.
I also think that drones are going to continue to expand. Maybe we'll even start seeing the humanoid kind of robots walking around.
GTCC: What would you say to someone who is interested in pursuing the A&T transfer track?
Kidd: For now, I would tell them that the best thing to do is to go into the general associate in engineering for the college transfer pathway. Once we get that new articulation agreement going, then jump right into it! But for now, it's best to go with the general one. Another thing I always tell my students is that for an engineer, a semester where you didn't take math is a semester later you're going to graduate. You're going to have to take math every semester until the day you graduate GTCC. The last thing I always tell anybody who's going into these pathways is to talk to me. I've always said I'm the "unofficial official" advisor for all the associate in engineering students. Almost every single student will see me in their first or second semester because I teach introduction to engineering and I make advising a part of that course.
So take math, talk to me, and just go for the general associate degree until we get the agreement updated.
Back to All Articles