GTCC lights the way for alum's career in entertainment technology
Published on: February 14, 2023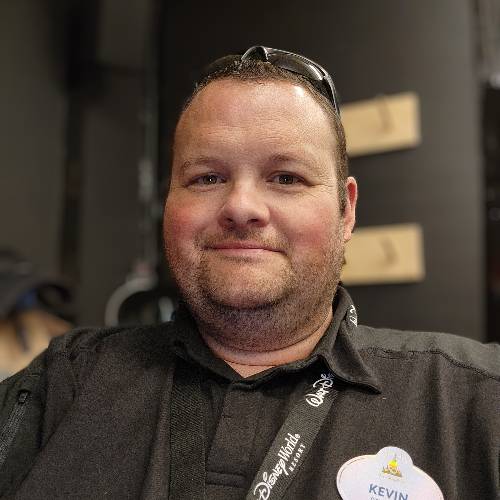 Kevin Neff now works at Walt Disney World.
Kevin Neff has always loved music, big productions, and light shows. As a police officer a few years ago, he was watching a Trans-Siberian Orchestra show and thought it would be fun to work in big, flashy productions.
"I've always been a big fan of the Trans-Siberian Orchestra. I remember several years ago watching the lights, the whole production, and thinking that it was really cool, and it would be a fun job," the 41-year-old Neff recalled.
A Winston-Salem policeman at the time, Neff had been on the force for 10 years and was ready for a change. He wanted to pursue a lighting and sound career. He figured he would have to go to "a school of arts, or something like that. And that would have been difficult with family and work."
Through a friend of a friend, he discovered that Guilford Technical Community College had exactly what he was looking for: entertainment technologies – concert sound and lighting.
"I was very surprised and happy to find out GTCC had this program. To find out there was a way to get into it without doing four years surprised me," said Neff, a California native who spent time in the U.S. Coast Guard.
He was able to use the GI Bill® to pay for most his two years at GTCC.
Neff said other than the love of music and live shows, he had no previous background in sound and lighting. His passion, though, made up for lack of experience once he began the program in August 2020. And while the GTCC program had a solid reputation, it turned out to be much more than he ever expected.
"Part of what I enjoyed about my time there was the instructors had such a strong background in all areas and they had so many contacts," Neff said. "They helped point a lot of us in the direction of jobs while were there."
Because of the connections the GTCC instructors had, Neff was able to land a job at Special Events Services, a large live event production company specializing in audio, lighting, design, and live event productions based in Mocksville.
"Special Events Services was a really good opportunity for me," he said. "There were some really big groups we worked with. That was a big deal for me. Working there while I was in school was a big factor in getting the job I have now."
A couple of months before graduation last spring, Neff started searching for a job online. One day when he logged in, a job opening at Disney in Florida popped up. He completed the application without a great deal of hope, but like a Disney movie, everything came together for a happy ending.
"I had the interview before I graduated, and as soon as I graduated, it was just a matter of getting to Florida and getting started on the job," he said.
Neff works at EPCOT, specifically the American Gardens Theater, the only stage on Disney property in Orlando that does large-scale live concerts on a year-round basis. There is a live stage show almost every day of the year.
His official title is lighting technician, which encompasses everything from maintaining lighting equipment to programming and running shows, but Neff's varied training at GTCC has proved doubly beneficial.
"I kind of do both lighting and audio in my current role at Disney, and since I do have the training in both, I'm able to help wherever," Neff said. "One of the things I liked about the program at GTCC was it wasn't just focused on one thing. While I was taking the class, I wondered why we did both (lighting and audio) but I'm glad we did."
There have been some adjustments for Neff, his wife and two small children since their move to Florida last May. But there have been some bonuses, too.
"The kids are loving the perk of being able to go to Disney. I've probably been somewhere on a Disney property six days a week since we've been here either for work or with the family."
Neff says his new life is almost like a dream. "I'm waiting for everyone at work to get tired of me talking about how much I love my job every day. I do feel like I've found a home."
He understands his work ethic and his knowledge and skills were key in landing a job that is so rewarding. But he often reiterates how important GTCC and its instructors have been to his success.
"I firmly believe I would not be here doing what I'm doing if not for the GTCC staff," Neff said. "Honestly, I feel I owe all of it to GTCC. Between the learning in the program and the things I was taught, plus the opportunities I had in their lighting and sound lab, they have everything there and they make it available to everybody."
Back to All Articles