GTCC esports athlete accepts scholarship to four-year university
Published on: May 31, 2023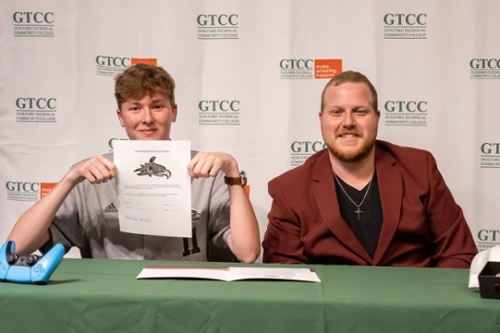 Esports athlete Garrett Palmer signs a letter of intent to play for Cumberland University with Spencer Claypool, Cumberland's esports director.
JAMESTOWN, N.C. (May 24, 2023) – A year ago Garrett Palmer was an esports rookie. Now he is Guilford Technical Community College's first esports athlete to receive a scholarship from a four-year institution.
Palmer, a sophomore on GTCC's inaugural esports team, signed a letter of intent Wednesday to continue his education and esports career with a scholarship to Cumberland University in Lebanon, Tennessee.
"It's very exciting to receive this opportunity to play esports at Cumberland University, especially since I've wanted to explore college options out of the state," Palmer said. "This scholarship makes it affordable to now do this and have a four-year college experience."
"Garrett has put immense dedication towards leadership, academics, and competition to become a prime competitor for collegiate esports," said Tu Nguyen,GTCC's esports coach. "I have no doubts he will succeed in esports, academics, and future career with the foundation built thus far."
Palmer had not been involved in esports when he received an email a year ago announcing that GTCC was going to begin a competitive esports team. He tried out for the Rocket League team and in a year has grown to grand champion III level and is now one of the top 5,000 players in the world, according to Nguyen.
Palmer was GTCC's in-game leader or team captain and competed in more than 60 Rocket League matches for the Titans. He plans to pursue a bachelor's degree in information technology and minoring in finance.
GTCC's esports team competes in the National Junior College Athletic Association Esports (NJCAAE), which has 80 member colleges and over 1,100 student athletes competing.
Cumberland University is a member of the National Association of Intercollegiate Athletics (NAIA) and competes in the Mid-South Conference, was undefeated in conference play this season, and captured the Mid-South Conference tournament title.
For more information about GTCC's esports program, visit the GTCC esports page..
Back to All Articles