Student follows in mother's academic excellence footsteps
Published on: May 8, 2023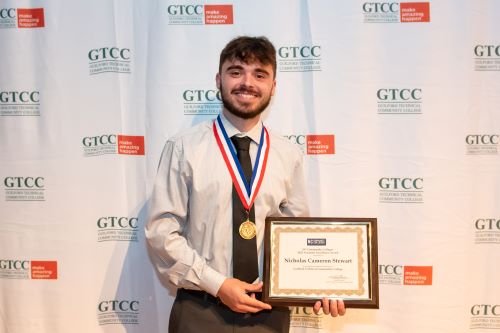 Nicholas Stewart credits his parents for his drive. "They always told me I had the knowledge to do better, to apply myself more."
Excellence runs in Nicholas Stewart's family and he and his mom have the awards to prove it.
"My mom reminded me the other day she had won an award last year. I honestly didn't know she had done it. I'm very proud that I've followed in her footsteps," said Stewart, who was home-schooled through high school by his mom.
Stewart, who graduates from Guilford Technical Community College in May, has been named a winner of the North Carolina Community College System 2023 Academic Excellence Award. His mom, Annette, was a winner of one of last year's Academic Excellence Awards given by Guilford Technical Community College.
The North Carolina Community College System Academic Excellence Award is the highest academic honor the system bestows on its students. One student from each of the systems 58 colleges receives the award annually. To be eligible, a student must be nominated by the college they attend, be currently enrolled, have completed at least 12 semester hours in a curriculum degree program, and have a cumulative GPA of no less than 3.25.
Stewart will soon receive his associate degree in business. He has maintained a 3.8 grade point average over the past two years, excelling in classes like accounting and statistics.
The Student Academic Excellence Awards, like the one Stewart's mom won in 2022, are granted to students who have received a faculty or staff nomination, earned a program GPA of 3.0 or higher, take curriculum classes within an associate degree program, participate in GTCC activities outside the classroom, and progress toward education and/or career goals.
"To be honest, it was not difficult for me to get motivated for my work here (at GTCC). My mom and dad instilled that in me," said Stewart, speaking of his mom, Annette, and his dad, Brendan. "They always told me I had the knowledge to do better, to apply myself more.
"The whole time I've been in college, I think I've had four Bs at most. That's just my parents teaching me if you have the drive, you can be the best you can be and never take less for OK."
Though the end results were always good, there were classes that were difficult for Stewart.
"Some of the accounting classes have been challenging. The hardest was cost accounting. It wasn't the teacher … it was just a really in-depth class and that made it difficult."
Stewart said his instructors have been pivotal to his GTCC success.
"There are many professors that have helped along the way. A lot of them gave one-on-one time with me. There were several along the way that did that. They won't let you fall behind," Stewart said.
"Nicholas is always prepared for class, takes copious notes which are amazingly organized, and participates in discussions and other activities," said Dorothy Kennedy, assistant professor of accounting and business administration, who was one of two instructors to nominate Stewart. The other nominating instructor was Tiffany Fearrington, assistant professor in the business administration department.
"He is quiet spoken and very unassuming, yet he continues to excel academically and in the workplace," Kennedy said. "I know he must be excited about completing his program, so he can begin working in the field and/or advance in his current career."
The work ethic his parents instilled in Stewart hasn't been limited to the classroom. He's had a full-time job since graduating from high school, which includes his two years as a full-time student at GTCC.
"I worked as a manager at Chick-fil-A for five years, and I've been full-time at Target (this year). That has been a bit of a struggle, especially this semester, but it has also helped mature me," Stewart said.
Stewart stays so busy that he missed the initial email informing him of the the North Carolina Community College System Academic Excellence Award and didn't realize he was a winner until weeks later.
"I actually found out through my HR professor," Stewart said. "She asked me one day if I had gotten an email (from the college). She said I needed to check on it. Turns out I had gotten it three weeks earlier."
It shouldn't have been a surprise, though. Excellence runs in the family.
Back to All Articles