Stylist hopes to pay it forward for new cosmetology students
Published on: June 12, 2023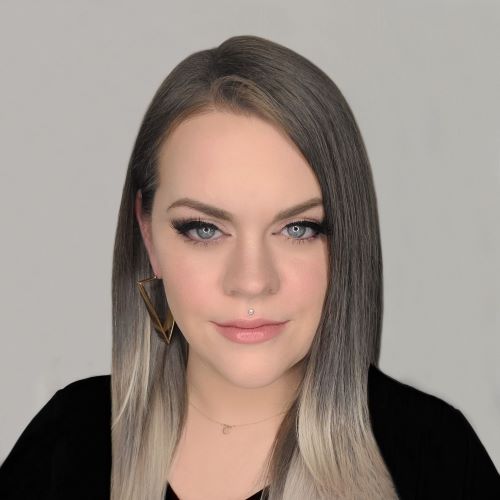 "All of my teachers at GTCC were amazing, but as with most things, school will only teach you the basics," cosmetology graduate Jess Maxwell says.
Jess Maxwell understands the importance of roots.
She's had her own private salon in Greensboro for years where she has developed a reputation that truly reaches far and wide, especially with color and extensions. She's done work in Rome and Paris for the modeling agency, 3BBM, where her styles have appeared on the cover of magazines.
Guilford County is Maxwell's home. It's where her roots run deep. She attended Northwest Guilford High School before starting her styling career in the classroom at Guilford Technical Community College. Now, she believes it's time for her to begin paying it forward.
"I wanted to reach out to the place that got me started. GTCC was really good to me. I was very grateful for all the help I got," Maxwell said. "Back then, you started cosmetology with one teacher that followed you through the program. I started with Mrs. Cassie White, and she was a huge help. Not only did she help curate my skills as a stylist, but she also guided me on how to interact with clients as well. She taught me that both skills and client interactions were equally important."
In addition to the vital classroom education Maxwell received, she also gained insight and experience by assisting area salons while she was in school. That additional knowledge helped her gain confidence and prepared her for a future as a stylist. That is where she'd like to lend a hand to current students.
"As a student I did go out and work in shops, kind of like an apprentice," she said. "I think that is very important. All of my teachers at GTCC were amazing, but as with most things, school will only teach you the basics. Learning tips and tricks from seasoned stylists that actually worked in the field was a game changer."
Maxwell believes the easiest and most effective way she and other stylists could give back to the college is mentoring GTCC cosmetology students in their shops. There could possibly be some paid opportunities for students as well, she said, adding that she hopes to attract current and former GTCC students to a project she is working on: creating an exceptional private luxury salon experience in Greensboro.
"It is important to seek help outside of the classroom, if nothing else shadowing a stylist and seeing things you don't normally see in school," said Maxwell, who on several occasions has been a guest speaker in GTCC cosmetology classes. "Styles change, chemicals change, and applications change. Just like with other fields, thanks to new tech, the hair industry is constantly changing."
Maxwell says this is just an idea at this point, all in a very formative stage, but she believes it has great value. She has discussed it with some of her former instructors at GTCC and is working on a more structured plan to present.
She said until someone is licensed by the state, there is very little other than basic things they can do in a salon, like shampooing and working to keep equipment properly sanitized. It is the intangibles that would offer a great learning experience, she said.
"There are things you kind of learn (in a salon), things that are very important that can't be taught in school. You learn to approach things more delicately and with grace."
Visit the cosmetology program page for more information.
Back to All Articles