High school degree, HVACR training provide grad with many options
Published on: July 13, 2023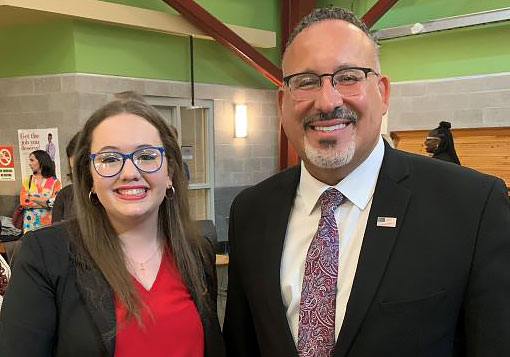 Mary Medlin (left) is one of six students who participated in a roundtable discussion about community college education with U.S. Secretary of Education Miguel Cardona in 2022.
Mary Medlin recently graduated from Guilford Technical Community College, and like many of her fellow graduates, there were numerous job opportunities in front of her.
But there was one minor problem: She was only 17 years old.
She is a graduate of GTCC's Career and College Promise program which allowed her to earn college credits her final two years of high school. It's a tuition-free program for high school juniors and seniors with a GPA of 2.8 or higher. That allowed her to graduate from GTCC's air conditioning, heating and refrigeration technology program this spring, about the same time she graduated high school.
HVACR companies require a worker be at least 18 to be hired which gives Medlin a couple of months of free time. But she has plenty to keep her busy.
She won first place at the North Carolina State SkillsUSA HVACR competition at in Greensboro a few weeks ago and competed in the national tournament comprised of thousands of students engaged in 110 hands-on career competition events in Atlanta.
"We know things they will use for the written test (in the national competition). We'll have a look at those, study those, and take some practice tests," said Medlin, who was home-schooled in high school. "We'll basically be going through things like that, thinking about what are the possibilities that could go wrong with a system."
And to think she was hesitant to enter the program two years ago.
"To be honest, I wasn't quite sure what I wanted to do," said Medlin. "My brother had done collision repair (at GTCC) and I looked at it and it seemed kind of interesting. But once I got into  A/C, Heating and Refrigeration, I loved it. I loved the science of it, seeing how all the parts worked together and then work through the process of how every part works together." With a little convincing, her parents accepted Medlin's HVACR decision. Now they embrace it.
"My family thinks it's awesome," she said. "Both of my parents were very skeptical when I first started. They said they couldn't see me doing this. They are really supportive now."
Her GTCC instructors are also very supportive and impressed with her determination.  
"Mary has a strong work ethic and is determined to succeed," said Jeff Underwood GTCC director and instructor for air conditioning, heating and refrigeration technology. "It is a pleasure working with a student with this type of dedication to learn."
Once Medlin turns 18, she'll begin thinking about real world application of what she has learned in her two years at GTCC.
"I'll probably start out as a service tech apprentice, but I already have a lot of that knowledge, that will definitely help. So many times apprentices go in starting with no training at all. I'm going to look at a few companies, but I have options."
Back to All Articles