New student ambassador cohort lends support to GTCC
Published on: August 11, 2023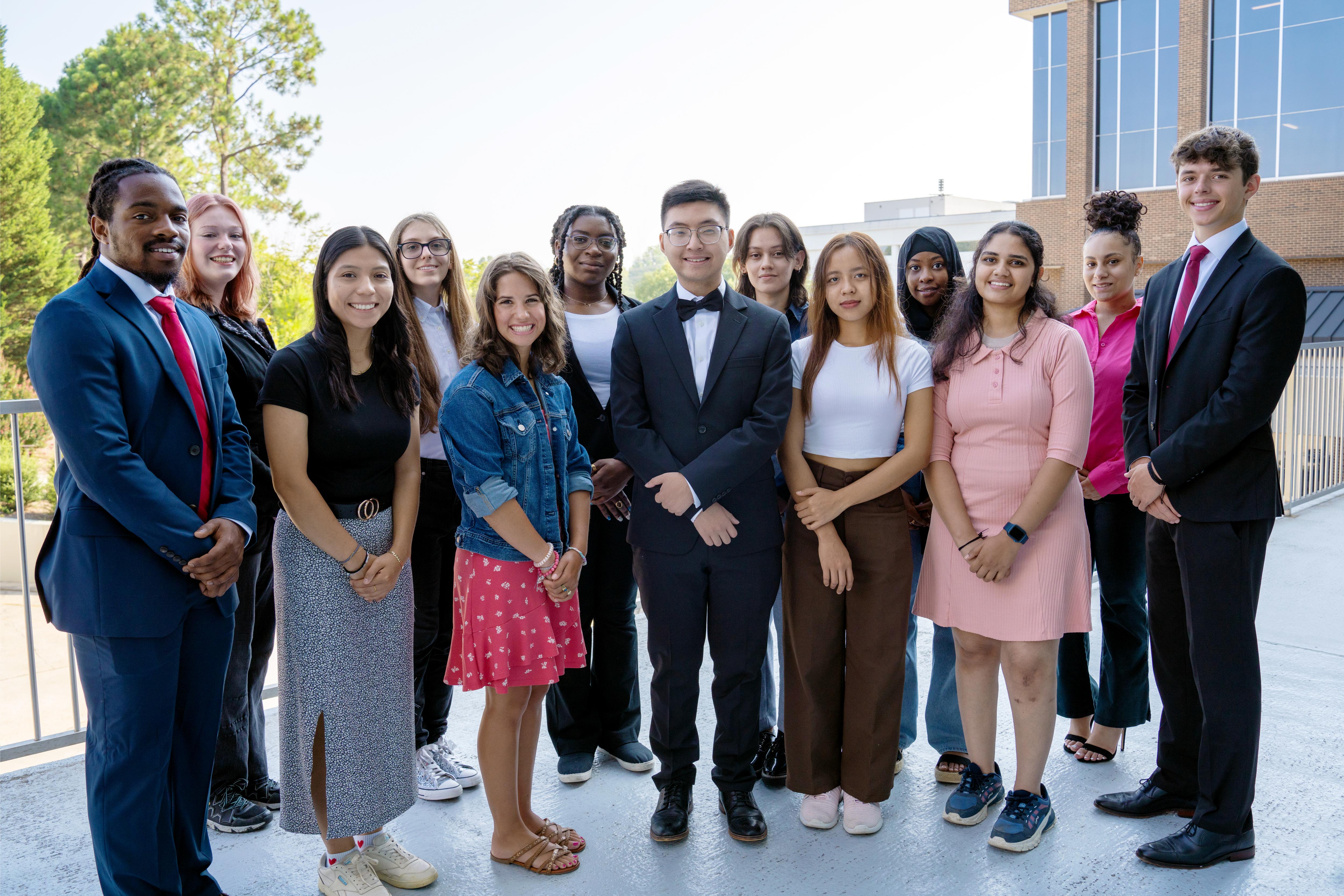 The 2023-2024 Student Ambassador cohort pose for a group photo to kick off the new year.
Whether you've been on a tour of one of Guilford Technical Community College's five campuses, attended an open house, or been to convocation, you've likely seen a student ambassador.
Student Ambassadors are a group of carefully selected students that represent GTCC and provide support for various events and many programs. The students selected for this role must be dedicated and must show their love for GTCC, even off the clock.
"This is a great opportunity for the college to highlight the student population and what we are doing for members of the community," said Berri Cross, the director of student life, who has overseen the program since she joined the college in 1998. "I don't know if you can put a number on the value of this program."
There are 14 student ambassadors in the 2023-2024 cohort, some new, some returning from last year.
To qualify for the program, students must be enrolled for at least 12 semester hours, have a minimum of a 2.5 GPA, and be in good standing with the college. Student ambassadors are paid for their efforts, generally contributing about 15 hours of work each month. They also receive $500 each semester from the GTCC Foundation to help with their academic expenses.
This year, there are 2 returning and 12 new ambassadors. They each have different reasons for applying to the program, but their love and appreciation for GTCC bring them all together.
"GTCC has a positive impact on my life," said Krishna Shah, one of the returning ambassadors. "Personally, the events and activities made me embrace new cultures, as now I am president of the International Student Association. Professionally, as a student ambassador, I am learning how to work in real-life scenarios."
The student ambassador program isn't just for traditional students. Adult learners and College and Career Promise (CCP) students also qualify.
Daisy Pace, a CCP student, is taking advantage of the program for the first time this year.
"I originally chose GTCC due to the impressive and inclusive variety of classes provided for every student, however, the school offers so much more beyond stellar academic options," said Pace. "GTCC is such a welcoming community, and I am so very happy to be a part of it. I have built countless friendships with my peers and my professors that I hope will last a lifetime."
With around 700 applications coming in each year, Cross explained what matters most when choosing the ambassador cohort.
"We don't choose people who don't think GTCC is a great place — that's why you are chosen. Many will say in their interviews that they are already an ambassador," Cross said.
"Ten out of 10 students in this program love the school, and they want to talk about their experiences."
To learn more about the GTCC student ambassador program, visit the student ambassador's page. 
Back to All Articles