Teaching intern focuses on opening students' eyes to critical thinking
Published on: August 9, 2023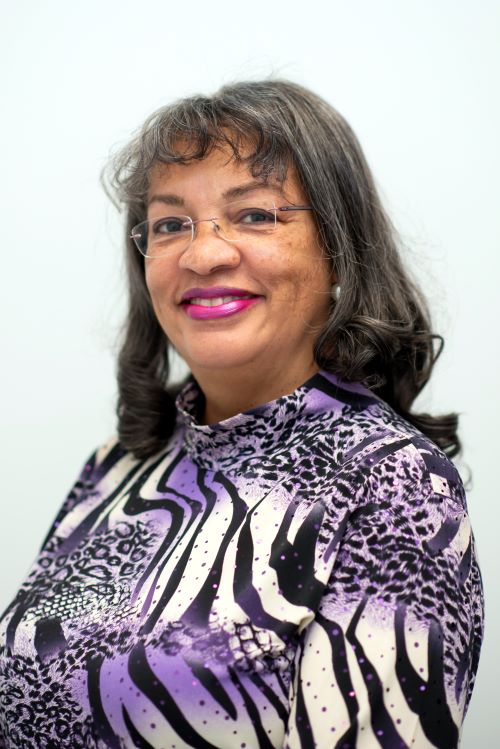 "I went in with my Ph.D., training, and experiences because, in my mind, these are college students, and I have to prepare them for their professional careers," Toni Bradsher says.
Toni Bradsher is a been there, done that type of person. She spent a good part of her adult life working for IBM. She was an engineer and project manager for the computer giant. Later in life, she earned a Ph.D. and became a college professor at a large university.
These days, with so many adventures behind her, Bradsher may be at the most satisfying point of her career as an instructor in Guilford Technical Community College's Inclusion for Impact Internship Program.
The program provides faculty interns with intensive training focusing on teaching, learning, diversity, equity, and inclusion at the college level. Once the 48 hours of training is complete, participants transition to a part-time paid teaching schedule at GTCC.
"What attracted me to the Inclusion for Impact program was that, above all, it was a statement," Bradsher said. "We know the world deals with diversity, equity, and inclusion, and that drew me to it. I wanted it to be an educational journey and, after that, life lessons."
Bradsher teaches critical thinking and humanities at GTCC. Her first task with every class is to convey an understanding of the class, primarily that critical thinking is not necessarily about criticism.
"I put it to the students like this: 'All of you have cell phones; what made you get that particular one?' They ponder on it, and I tell them that's critical thinking. What you chose to wear today is critical thinking. What made you choose GTCC? That's critical thinking. Then we start to delve into the meaning and components of critical thinking."
Bradsher had a plan going into her first semester of classes at GTCC, but she quickly tossed it aside and regrouped to reach her students better.
"I went in with my Ph.D., training, and experiences because, in my mind, these are college students, and I have to prepare them for their professional careers," she said. "They give me critical feedback, and I give them the same."
The classes, Bradsher said, are like great awakenings as students think their way through different applications and programs each semester.
"My students love it. They are like, 'we didn't think of it that way.' The applications we do in class, the problems, and issues, searching for challenges and answers, there are a lot of 'aha' moments for them."
The value of becoming a critical thinker is far-reaching, especially in a community college setting where a class could have students headed in many different directions upon graduation.
"Some of my students want to be a pediatric nurse, one a police officer; some are in cosmetology. I must show them how to apply this class to what they will be doing," said Bradsher, who says instead of lecturing, she aims for her classes to have a conversational tone. "A lot is about poise, to get them to pause before they speak and think about their response."
She is also big on making sure her students become comfortable speaking to groups, small or large.
"A lot of them are very shy, but when they do their presentations, I tell them, 'You've got this. Just pretend you're teaching to the tree outside the window and make sure the building over there can hear you, too."
Bradsher also teaches the importance of self-confidence and self-belief. "I show them they do not have to be stuck; they must go further. I must help them see the trees and then go into the forest, not to stay right where your friends are.
"They are afraid, and I know a lot of them have challenges, but I tell them you do not have to be a victim of your circumstances. You are here and you want to do better."
And she is confident they will do better.
"I tell all my students that I want their signatures, that you are going to be somebody. I know I'm going to be reading about you all. I love these students to death."
For more information on the Impact for Inclusion Internship program, visit gtcc.edu/about/employment/faculty-diversity-internship-program.php.
Back to All Articles