International female leaders in STEM inspire female GTCC students in similar fields
Published on: November 6, 2023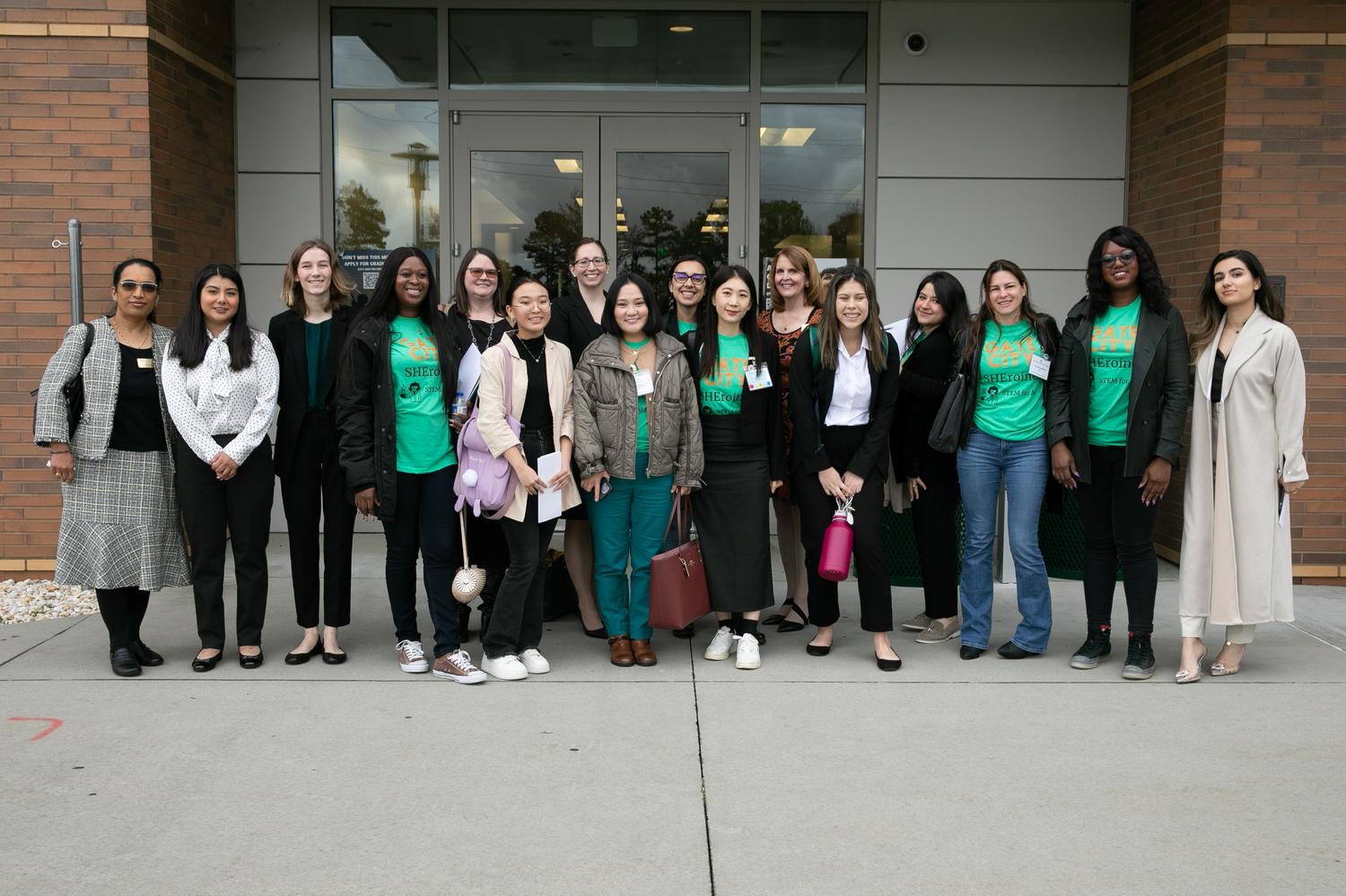 GTCC students and staff pose with the STEM leadership visitors as part of the U.S. Department of State International Visitor Leadership program visit.
Guilford Technical Community College welcomed seven women from around the world this week as part of the U.S. Department of State International Visitor Leadership program. The women are all accomplished leaders in STEM (science, technology, engineering, and mathematics) fields, ranging from project consultant leaders to CEOs from international organizations. The visitors consisted of:
Bolivia: Wara Andrea Mendez Sotelo, managing engineer for NICE inContact
Costa Rica: Cristina Vindas Rodriguez, executive director of Impact Hub San José
Iraq: Rima Abdulsattar Abdulrahman Tabrah, lead project manager for GE Gas Power
Mongolia: Enkhsaikhan Nyamsuren, CEO of Empasoft Academy
Nigeria: Stephanie Adesanya, director of American Corner Ikeja
Panama: Sheyla Leacock, cybersecurity transformation officer for Banistmo
Republic of Korea: Se Yun Ji, Ph.D., researcher and associate project manager for the Korea Foundation for Women in Science, Engineering and Technology 
The purpose of the visit was to connect international female STEM leaders with a variety of women in STEM education in the United States. During a panel discussion, the leaders and several female GTCC students were able to share ideas, learn from each other, and build partnerships.
Beth Pitonzo, senior vice president of instruction at GTCC, presented an overview of the college, highlighting unique partnerships and opportunities for students in STEM industries.
Included in these partnerships is the Career and College Promise (CCP) program, which allows high school students to take courses at GTCC and get college credit; the Cyber Crime Technology Center, a resource for cyber-crime technology students to get jobs, find additional resources, and attend networking events; and the C-STEP and NC A&T co-admission transfer pathways, which facilitate the transfer process for students interested in attending UNC-Chapel Hill or NC A&T.
During a student panel discussion, the visitors and the students shared their backgrounds and level of experience in their respective fields. The open dialogue allowed the visitors to ask questions about how the GTCC students navigated male-dominated careers, education opportunities, and how they find mentors in their field.
"I'm grateful for the mentors in the industry who help navigate the pathway for women to succeed in male-dominated fields," said Annabel Dierking, a current CCP student working toward her associate in engineering degree.
Hadis Sheikhi had a similar experience, noting the impact GTCC had on her success in continuing her education after she graduated from GTCC.
"My experience at GTCC was exactly what I needed to be prepared for the rigorous 4-year program at UNC-Chapel Hill," said Sheikhi. "My professors at GTCC were always supportive and always made themselves available for questions and mentoring."
The visitors also inquired about how the soft skills the students are learning were necessary for their careers. The responses varied, but all students agreed that clear communication, confidence, and being able to share the knowledge gained were critical for growth and success.
The visitors themselves also shared their experiences, detailing some of the difficulties they've faced as women in their fields.
Leacock, from Panama, shared the challenges she has faced with a lack of resources and physical lab space for students to apply the skills they've learned. The students explained that they, too, had faced these challenges when taking classes online, and that they were grateful to their professors for putting their best foot forward in teaching the material in a less-than-deal format.
They also noted that balancing in-person and online classes required a dedication to learning and being able to set aside time to student the material thoroughly.
Tabrah, from Iraq, also shared that while women can pursue STEM education in her home country, there are many STEM fields that will not hire women. The GTCC students acknowledged that while they are often outnumbered in their fields by men, they recognize the opportunities they have to pursue these careers in the United States.
By the end of the visit, the international STEM leaders and the GTCC students exchanged contact information and began to build relationships with one another. The main goal of the visit was to encourage the students to find mentors in their fields, and the visitors proved that they were willing to be one whenever they can.
Back to All Articles