My GTCC Story: Jeff Duncan
Published on: July 3, 2018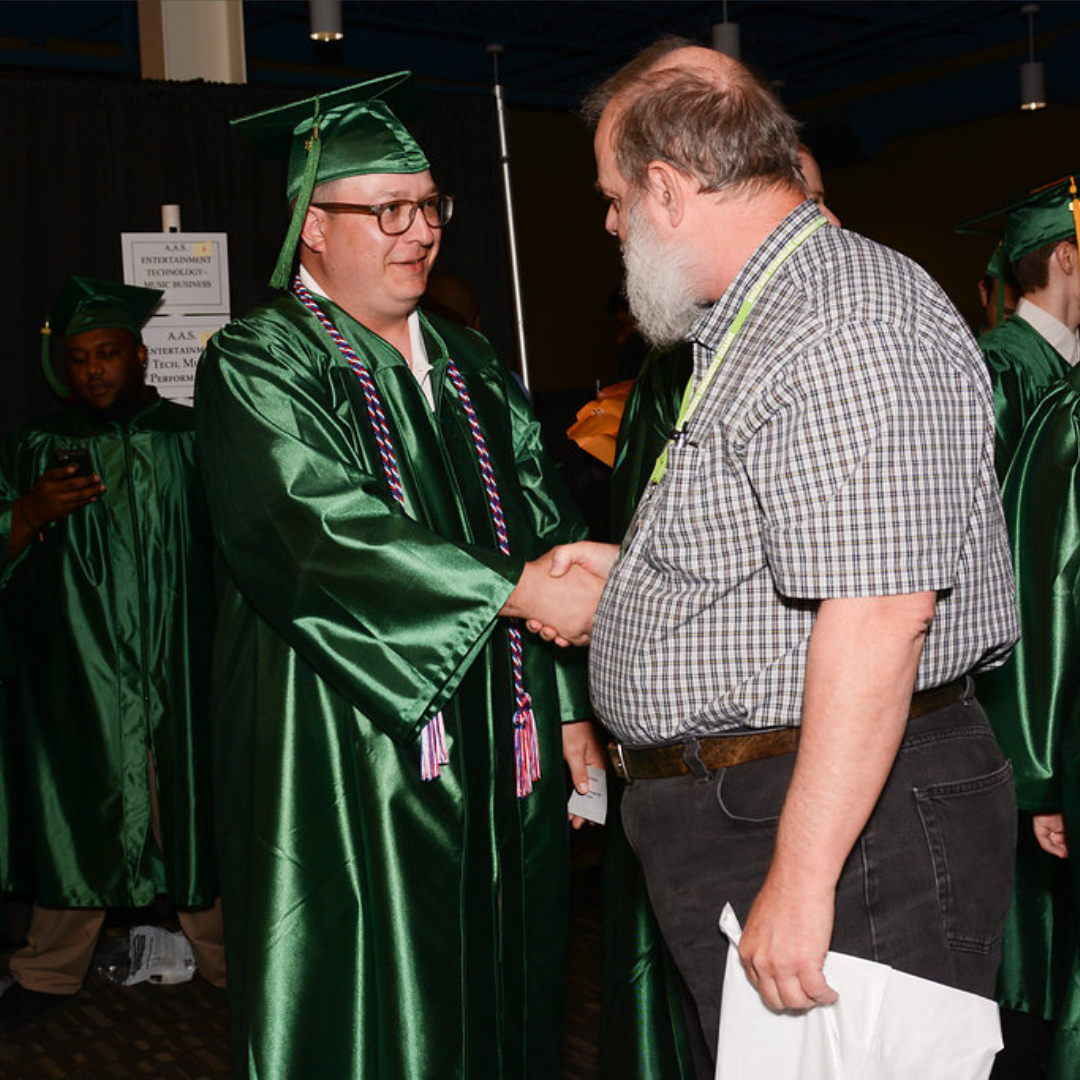 TJ Johnson (right), GTCC department chair for the Center of Creative and Performing Arts, congratulates U.S. Army Veteran Jeff Duncan (left) during GTCC's commencement ceremony in May 2018. Duncan ('18) received an associate degree in music business after serving in the military.
Veteran Turns Part-Time Job Into a Career
Guilford Technical Community College welcomes many veterans on campus and offices specialized resources to help them succeed in their coursework and pursue meaningful careers. This is something that doesn't go unnoticed, especially by Army veteran and recent music business graduate, Jeff Duncan.
"One of my favorite parts about GTCC is how veteran-friendly the campus is," he says. "There is a huge veteran presence, and there's even a Veteran Resource Center on the main campus."
Jeff enrolled at GTCC in 2001 but left to join the military following the events of Sept. 11. When he returned from overseas he continued to take courses, and began to look for part-time work. He had always been a big fan of music, so he began working with various music festivals, doing project management and orchestrating logistics around the country.
He enjoyed the work, but it inspired him to learn more about the technical side of the events. That's when he began to realize his part-time job could turn into a career.  
"It started as just a job, but it was gratifying to realize it was my career path and to know that I wanted to do it for the rest of my life," he shares. "I knew that continuing the program at GTCC would help me further my industry knowledge."
Jeff kept up with his courses at GTCC and graduated in May 2018. He jokes that he holds the longest record from start to finish in an entertainment technology degree, but commends the growth of the program over the past 17 years.
"I'm proud to see such a great program flourish over the years," he shares. "When I started, the program was in a basement in Jamestown, and now it has its own building, recording studios, performance spaces and an electronic music lab. I feel like I definitely ended up finishing at the right time."
Jeff will get a chance to use his industry knowledge at the upcoming North Carolina Folk Festival and plans to continue working music festivals in the future. He looks forward to shifting his focus to the technical elements of shows now that he has his degree.
"The Entertainment Technology program has given me a greater appreciation of what a job within the industry has to offer, especially when it comes to stage production," he says. "It has definitely added a broader spectrum of knowledge to my previous experiences. I think everyone who completes the program comes away with some valuable skills essential to the music industry."
Back to All Articles