Pandemic, brain cancer leads instructor to chart new course
Published on: June 1, 2023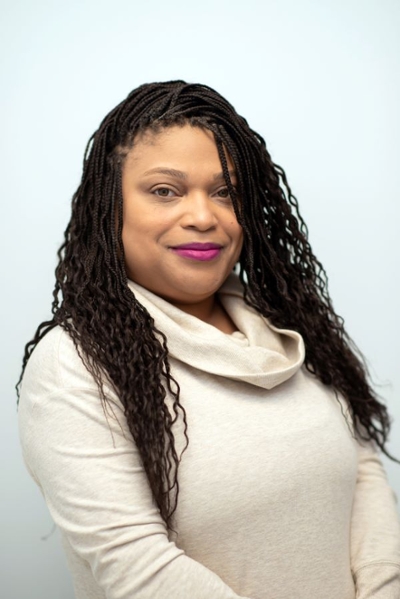 "We all have challenges on this life's journey," April Thompson says. "We have to understand how to maneuver through them to continue with what we are purposed to do. This is my passion."
April Thompson teaches Guilford Technical Community College students how to overcome adversity and strive for excellence as they begin their college careers.
She certainly knows the topic well. In fact, if not for an ingrained ability to battle back through difficult times, she probably would not be working as an instructor through GTCC's Inclusion for Impact Internship program.
The program provides faculty interns with intensive training that focuses on teaching, learning, diversity equity, and inclusion at the college level. Once the 48 hours of training is complete, participants transition to a part-time paid teaching schedule at GTCC.
In the spring of 2020, the 42-year-old Thompson was hit with a double whammy on the same day.  First, she learned the COVID-19 pandemic was shutting down GTCC, including her job at the college's Center for Academic Engagement. Later in the day, she learned she had an aggressive form of brain cancer.
"The same day they told us we had to leave campus for (COVID-19), I was grocery shopping with my son and I got a call informing me the MRI I had completed about an hour before showed what appeared to be an aggressive form of brain cancer and I would need to come in the next day to discuss emergency surgery," Thompson said.
"I had to have brain surgery. I had to learn how to walk, how to talk. I had to get back to an executive level. There was lots of therapy to get met to the point I could come back to work."
During the long hours of therapy, Thompson heard about the new GTCC inclusion internship program. She knew instantly it was for her.
"When the time came to come back, I saw this program and decided this is what I wanted to do," shed said. Thompson had already retired from Guilford County Schools in 2014 after 11 years as an exceptional child teaching assistant.
"It's a second everything for me. Learning to walk again, this program. I have been blessed to have another chance to do what I love. I'm very passionate about education."
As an instructor in the Center for Academic Engagement through the inclusion internship program, Thompson's class is one of the first GTCC students experience. It sets the tone for the rest of their college career.
"I work with students, advising them about their academic career. In the state of North Carolina, they have to take this class to successfully transfer," she said. "We get all different majors … surgery technologists, hygienists, business majors. I'm all over the place with the students I get and that's a joy to me."
Thompson figures she's just the person to be working with these students from all walks of life and educational disciplines.
"You may have someone in your class who has a medical condition, a retiree, a second-language learner. You want them to know they are looking at someone who has strived for excellence," she said. "It was OK for me to take a step back and work to get back. That is my story, and it allows them to see how diverse and inclusive GTCC is.
"We all have challenges on this life's journey. We have to understand how to maneuver through them to continue with what we are purposed to do. This is my passion."
Thompson has had quite the journey. She's a single parent of three children, two who are in college now and a third who will finish high school this year. She's a GTCC graduate, has worked at the college for many years on a part-time basis, worked full-time in public education, and is in remission after her fight with brain cancer. She is cancer-free with brain scans scheduled every six months.
She figures her students can learn much from her trek through life, but she doesn't hit them with it too quickly.
"I usually wait until we get to a lesson about perseverance, about how to push through and how to be successful," she said.
Her story is an attention-getter for sure and helps keep her classes on point, especially through the parts that aren't as dramatic as Thompson's own story.
"We talk about time management, note-taking. We're setting them up for all the courses they will have to take," she said . "After leaving my course they should be able to understand how to study, how to balance their course load. I tell them 'This is your life. You have to make it work for you.' I'm setting the stage for their future, setting the tone about how to make this journey successful."
Learn more about the Inclusion for Impact Internship program.
Back to All Articles