Pharmacy tech grad dispenses helpful advice now as instructor
Published on: June 11, 2023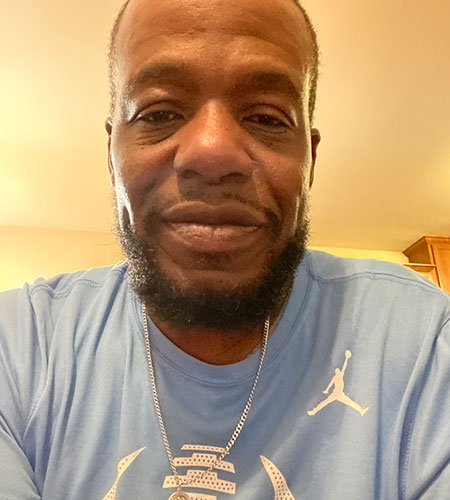 "Having been a student and now teaching gives me a different perspective," Athens Barnes says.
When Athens Barnes speaks to prospective students at Guilford Technical Community College's pharmacy technology program, they would be wise to listen. Barnes knows the ins and outs of both sides of the program.
He's a graduate of the program, entering the program in 2020 in his late-40s after working in a pharmacy for several years. These days, with an associate degree from the program and licensed as a pharmacy tech by the State of North Carolina, he's back at GTCC teaching in the program.
"Having been a student and now teaching gives me a different perspective," said Barnes, who also works full-time for Friendly Pharmacy as a pharmacy tech. "I love it. It's a really good experience to go through with the students."
When Barnes entered the GTCC pharmacy program his goal was to eventually transfer into a pharmacist program, but quickly decided he was a perfect fit for the pharmacy tech program.
"I thought I wanted to be a pharmacist, but once I saw what the prerequisite classes for it were like, I switched over to pharmacy tech classes."
The pharmacy tech classes were a quick study for Barnes because of his previous background in pharmacy prior to enrolling at GTCC. The certifications and licenses that come with successful completion of the program were well worth the wait and the work, Barnes said.
"There is so much more you can do with being a pharmacy tech. And I didn't want any limitations to what I can do," said Barnes, who praised GTCC's pharmacy simulation lab.
"The simulation lab is so many different things, just like a pharmacy. It's set-up like a pharmacy, like a hospital and community pharmacy in one."
Barnes, now 51, says once he started attending GTCC, he never looked back, and that the decision has been a life-changer for him.
"GTCC and this program have been really important to me. You learn everything you need to learn here. Basically, every question I had on my (state) exam, I had during my semesters at GTCC. You go into the tests knowing what you need to do," he said.
"The instructors are very easy to work with. They care and you can tell they care. They help you through the whole program. They are passionate about what they do. The put a lot into the program."
Visit the Pharmacy Tech program page for more information.
Back to All Articles