Pharmacy Technology
Join the exciting world of pharmacy technology! We offer training on state of the art equipment such as Pioneer Rx software, modular clean room with a laminar flow hood, and a Med Dispense machine in a fully functional simulation lab environment. Explore the multiple career options for pharmacy technicians including retail pharmacy, hospital pharmacy, mail order, assisted living, home health, nuclear medicine, and medical insurance. Learn through interactive, hands on experience in lab, as well as experiential rotations through local pharmacies. This program is accredited through the American Society of Health Systems Pharmacists (ASHP) and will prepare you for the exam to become nationally certified through the Pharmacy Technician Certification Board (PTCB).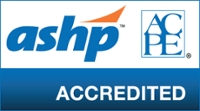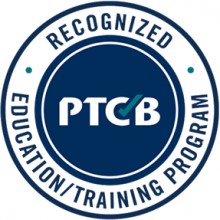 The Pharmacy Technology Program at Guilford Technical Community College is accredited by ASHP/ACPE Pharmacy Technician Program Accreditation and the Pharmacy Technician Certification Board.
The program is now recognized by the  Pharmacy Technician Certification Board (PTCB) as an educational program for technicians who wish to apply for the Certified Sterile Products Technician (CSPT) Program. For more information, please go to the PTCB website. 
Pharmacy Technology Program Outcome Data

| | Completion Rate | Employment Rate | National Certification Pass Rate |
| --- | --- | --- | --- |
| 2020 | 87 | 100 | 100 |
| 2021 | 79 | 100 | 100 |
| 2022 | 88 | 100 | 100 |
Admission Information
Frequently Asked Questions
The Pharmacy Technology Program is a limited enrollment program that only accepts 24 students. All students begin as diploma level students.
Students interested in applying to this program must follow guidelines on our Limited Entry Programs page.
Tonya Welch, Program Director
Financial aid is available if you qualify. Please visit the
Financial Aid
web page or contact the
Financial Aid
office at 336-334-4822  Option 3.
After applying to the program, students who are admitted will receive an acceptance letter in May.  Students must attend a mandatory program orientation that is separate from the college orientation.  During the program orientation students will be advised on how to register for classes. And receive information on completing the required drug testing and criminal background check.
Students can take any of the general education requirements such as math and English prior to acceptance into the program.
The Pharmacy Technology Program is located on the High Point Campus.
Yes. Clinical rotations take place in the spring semester at local pharmacies.  You are required to have a criminal background check and drug test prior to being place in clinic. The clinic sites also require that you have the flu vaccine.
This is a hybrid program with some class and lab on campus and some online. The clinic rotations must be completed on site at a local pharmacy.

The pharmacy program partners with PioneerRx, the top pharmacy management system in the industry. PioneerRx enhances our curriculum with a hands-on approach to learning that simulates the functions and workflow of today's most innovative pharmacies. For more information, visit https://www.pioneerrx.com/.
See how PioneerRx compares to other pharmacy software vendors at Pharmacy Software Reviews website.