Fire chief: High school program fuels calling to serve
Published on: June 13, 2023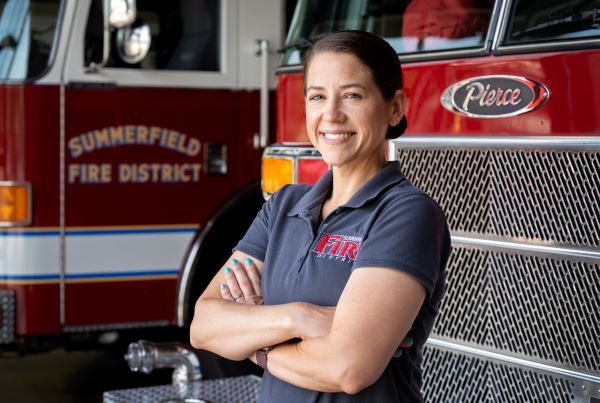 "The high school program is so important right now," Jenna Daniels says. "We are losing firefighters nationwide."
For Jenna Daniels, firefighting has never been a career. It's a calling.
"I was always around it growing up. My dad, my brothers, my uncle, and my cousins were in the fire department, and I would come around and hang out. I was always around it," Daniels said.
"Being around it growing up, it was something I knew I wanted to do. I didn't see myself doing anything else."
Family tradition motivated her. Guilford Technical Community College sealed the deal. As a junior at Northwest Guilford High School, Daniels entered the Huskins Program, a high school fire academy.
"The Huskins Program is what the high school program at GTCC was called at the time," she said. "We would leave school our junior and senior years and drive to a GTCC building in Greensboro for fire department classes that gave us college credits. If you completed that program, GTCC would pay for your tuition to finish the two-year degree."
Daniels earned an associate degree in fire prevention technology from GTCC and a bachelor's degree in fire science from Fayetteville State University. She also attended GTCC's nighttime fire academy, graduating in 2005 with a pair of firefighting certifications and an EMT certification.
Today, Daniels is the assistant chief of the Summerfield Fire District in Summerfield, N.C., the same firehouse where she began a junior firefighter program when she was 15 years old.
"I don't think I would be where I'm at today without GTech," she said. "It allowed me to get the classes right out of high school that allowed me to transition into a four-year bachelors' program."
After she finished at GTCC she returned to Summerfield as a volunteer firefighter and later moved out of the area. In 2008, though, the Summerfield Fire District had openings in its paid force. Daniels applied, was accepted, and went through the strenuous hiring process.
"I was hired here in January of 2009 and transitioned to full time, 24-hour shifts, running all the calls. That was different," said Daniels, whose husband Kirk is a firefighter in Greensboro and a graduate of the GTCC program.
"But it wasn't hard coming back here. I knew a lot of the people and grew up with a lot of them. I felt like I was coming home."
There are three fire stations in the Summerfield Fire District and 75 in Guilford County. Daniels works out of Fire Station No. 9, located, she said, "in the heart of Summerfield."
There remain volunteer firefighters in the Guilford County departments, but most are full-time, career firefighters. There are almost 40 full-time firefighters working out of Station 9, making up three shifts.
In 2012 Daniels transitioned into the station's staff aid position when it opened. The position she said, is a "combination of HR and jack of all trades" but worked perfectly at the time because it was 8 a.m.-5 p.m., and she was pregnant. That job gradually grew bigger and bigger until she was promoted to captain of administration to match the duties she was carrying out.
"That job kept growing, the chief kept giving me more jobs, and I was building on responsibilities and that led to becoming assistant chief in 2018. This is not something I've done by myself. I credit our fire chief and the people around me. This department is full of great people."
But Daniels isn't strictly an administrator these days.
"I'm still a certified firefighter, I still do suppression. My main job is incident command on fire scenes," she said.
Daniels is excited about the fire cadet program GTCC and Guilford County Schools are introducing this fall that will give high school seniors the opportunity to forge a path to firefighting similar to the one she traveled.
"The high school program is so important right now," Daniels said. "We are losing firefighters nationwide. We don't have the folks that can leave at the drop of a hat to go to a fire. Having a program to attract people while they are in school, that is something they can continue.
"They are the next generation of our firefighters."
Visit the GTCC High School Cadet Fire program page for more information.
Back to All Articles