GTCC's fire protection technology programs receive reaccreditation from IFSAC
Published on: August 1, 2023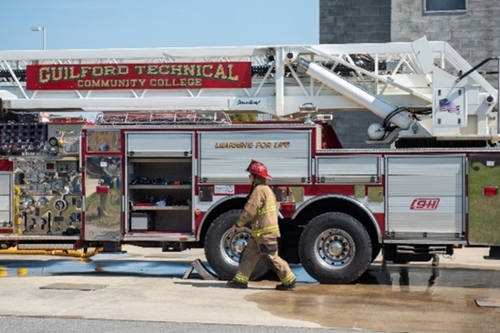 GTCC fire cadet participating in a training exercise.
JAMESTOWN, N.C. (Aug. 1, 2023) – Guilford Technical Community College's fire protection technology programs recently received reaccreditation from the International Fire Service Accreditation Congress (IFSAC) degree assembly.
The college's fire protection technology associate in applied science and certificate programs were both reaccredited in a unanimous vote by the IFSAC degree assembly. The reaccreditation process began in August of 2022 when the program was evaluated by the IFSAC, followed by a site visit in March. The IFSAC team spent two days interviewing faculty, staff, students, graduates, and the program's advisory board. The site-visit team recommended the program for reaccreditation.
"Receiving and maintaining accreditation from an international peer-driven organization shows the commitment from GTCC faculty and staff to the Fire Protection program. IFSAC accreditation is a goal that fire and emergency services delivery agencies seek to attain to set them apart and it holds us to standard of excellence," said Joel Davis, program director of fire protection technology at GTCC.
GTCC is one of only three colleges in North Carolina that offers fire protection technology programs accredited by the IFSAC. A degree program accredited by the IFSAC shows that course offerings, institutional support, and qualified faculty are working together to provide the best possible education for students.
GTCC's fire protection technology program is designed to provide technical and professional knowledge to make decisions regarding fire protection for both the public and private sectors. In addition to being accredited by the IFSAC, the degree program is recognized by the Fire and Emergency Services Higher Education program.
The IFSAC accredits fire and emergency related degree programs at the associate, baccalaureate, and master levels offered by colleges and universities. In addition to the IFSAC accreditation, the Fire Protection Program is recognized by FESHE (Fire and Emergency Services Higher Education) initiative through the National Fire Academy (NFA). The NFA is part of the United States Fire Administration.
Visit GTCC's fire protection technology program page for more information.
Back to All Articles