Medical Office Administration—Healthcare Administration
The Medical Office Administration—Healthcare Administration program prepares you for employment in administrative and supervisory positions in healthcare-related areas. This includes administrative and supervisory positions in:
physicians' offices
inpatient and outpatient facilities
Course work includes medical terminology, medical insurance, accounting, healthcare finance, supervision, Microsoft Office, and oral and written communication. Additionally, you will learn to communicate effectively with patients and healthcare professionals. All course work is designed to provide a hands-on learning environment to prepare you for administrative and supervisory work in healthcare. You are given an opportunity to complete a work-based learning experience to earn real world healthcare related experience.
Frequently Asked Questions
You will need to follow the general enrollment process for GTCC, found on the How to Apply web page.  During the advising process you will have the opportunity to indicate your desire to study within this curriculum. Your advisor will help you sign up for the specific courses you need.
Before considering applying to the program, please review the Medical Office Administration Essential Functions PDF.
The full-time faculty in the Healthcare and Office Administration department are listed below:
Julia Carlson, Associate Professor
Sandra Flynn, Associate Professor
Kim Jordan, Assistant Professor
Carol Dantzler-Harris, Assistant Professor
Jo Ellen Connors, Instructor
Since this program prepares students for administrative and supervisory roles, there is a focus on healthcare business/administrative operations, which includes accounting and finance.  So yes, there is a heavier focus on math in this program. 
Upon entering the program, students will need to take the math placement test to determine their entry point for learning as it relates to math and math-related courses. 
If the student successfully passes all parts of the math placement test, it is deemed that they have met the state level pre-requisite requirement, and can register for both a college level math (MAT-110 or MAT-143) and ACC-120. 
If a student requires developmental math, they must successfully complete five modules of developmental math (DMA 10-50).  Developmental math is structured so that students move at their own pace, but it should be noted that progression through these five modules will take a minimum of two semesters.  Successful completion of all five modules is the state level pre-requisite for both college level math (MAT-110 or MAT-143) and ACC-120.  As such, once developmental math is successfully completed, students can register for both a college level math (MAT-110 or MAT-143) and ACC-120.  Interested students should note that if you require developmental math, it is offered in-seat only (no online option for developmental math).
Understanding these pre-requisite requirements is critical to student success and progression through the program.  Students are encouraged to work closely with their assigned academic advisor to navigate the curriculum layout to move towards graduation in a timely manner. Further, students are highly encouraged to avoid delaying registration for these math/accounting courses.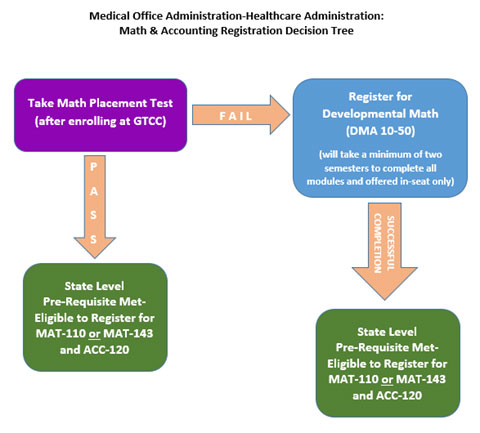 While the curriculum in the Medical Office Administration-Healthcare Administration program prepares you for supervisory or managerial roles in the healthcare field, employment opportunities will vary from person to person based on individual qualifications.  Healthcare employers look at many different things when hiring for supervisory or managerial positions.  They may include, but are not limited to, education level, general work experience, healthcare-specific work experience, and past supervisory  or managerial experience.  Students considering the Medical Office Administration-Healthcare Administration program are encouraged to research job opportunities and requirements to determine the best educational path to achieve your employment goals.  This program may not be an end goal for all students, but rather, a stepping stone to the next level of education that is needed to achieve desired employment.
Yes, the Medical Office Administration-Healthcare Administration program is offered both in a traditional (in seat) and online format.  Many students currently enrolled in the program work full time jobs and the online option gives them the needed flexibility to further their education while continuing to work. 
The only exception to this occurs if developmental math is required.  Developmental math is not a program requirement, but a pre-requisite to program level courses.  As noted earlier, developmental math is only offered in-seat.  
Students interested in the online Medical Office Administration-Healthcare Administration program should contact the GTCC eDegree department.  A link to their website, which includes the application process, requirements, and frequently asked questions is located below.  Students interested in the online (eDegree) program are encouraged to apply.  Once established as an eDegree student, you will be given priority registration for online courses at GTCC.
Yes, courses within this program will prepare you for Microsoft Office Specialist (MOS) certification. OST courses are available, in which these certification exams can be completed, or the exams can be completed through Certiport®. Please speak to your advisor for more information.
Each course required in the program will provide a list of required course materials to the GTCC book store each semester. Required course materials may include such items as:  textbook(s), access code(s) for additional learning platforms such as MyITLab, certification exam fees, webcam, microphone, flash drive, etc. Required course supplies will also be listed on the course syllabus as well.
The Medical Office Administration-Healthcare Administration option is NOT a limited-enrollment program, so any student interested may pursue the degree offered in the program.
It is best to take the required courses in the order they are shown in each semester layout. Many courses are prerequisites to other courses that are required in the following semester, meaning that one course must be completed before a student can proceed to the second-level course. If a student takes courses out of the layout order, there is a chance that they will miss a prerequisite requirement which may then delay completion of the degree by a semester or more.
Students are certainly free to move at a slower pace if they cannot take a full-time load of semester hours. However, keep in mind that this will lengthen the amount of time required to complete the degree. This not a bad thing! It is more important for a student to be working toward their goal of earning the degree they desire even if this means taking a little more time to do so.
It is always to the student's benefit to consult with their assigned advisor to discuss questions and concerns regarding the timeframe for completing the degree. The advisor can ensure that the student does not overlook completing a prerequisite course that may delay them in their program progression.